Namena 
Namena Island
We left Vanua Levu for Namena Island, a very small, currently uninhabited island about 30 miles from Savusavu. Namena was habited at one point, prior to Cyclone Winston last year, but the resort that was there is now closed. Our first night there, we were the only boat, and without any light and a late-appearing moon, it was pitch black allowing the stars to shine bright in the anchorage. Namena seems to be an unofficial "bird sanctuary" that is loaded with all sorts of sea birds nesting in the trees and scrub. We kayaked in to explore a bit, and it became clear this island was hit hard by Winston. There were some concrete steps up to a large rock—but they were beat up so badly it was difficult to figure out what it used to look like or where the trail led. And the plant debris, logs, and trees that covered all of the trails made it pretty much impossible to hike to the other side. So, we enjoyed the birds and combed the beach while we were there.
We also went diving.   Here, the dive sites are on the fringing reef around the island. To dive, we pulled up anchor and moved Do Over to near the dive site, and from there, we were able to swim a bit and descend on some amazing chimney coral heads. (Think pyramids in the water.) These pyramids were loaded with fish. Ari and Dan went the first day, but it was too late to do a second dive so I could not also dive that day. The next morning, Dan and I dove around a different chimney coral head, and then he and Ari did the same spot in the afternoon after Dan had enough of a surface interval. Once again, our dive compressor came in very handy. We pulled it out and made our own air, stuffing it into our dive tanks. We didn't know if we would need a compressor on this trip, but it sure has come in handy in remote places where air fills are impossible to get—or when dive shops won't fill them for liability reasons.
Ari Getting Ready to Dive
Setting up my BC and Reg
Diving
Looking Up From Below
Dan's Artistic Shot of Me in a Coral Window
So Full of Fish and Colorful Coral!
So Full of Fish and Colorful Coral!
The Chimneys in Namena Waters
Sunset in Namena
Kids Doing School.  That is Kava Root in the Background
After a few relaxing days in Namena, we tried to pull up anchor but it was wrapped around a huge rock, which unfortunately, was so strong, our anchor roller on our bow snapped off and fell into the water when we tried to free it. Add that to the list of things that we've lost to the sea! They say "boat" is an acronym for: "bring out another thousand," but boating long-term also means: "lose everything overboard" (which I guess would be "leo"). Well, without an anchor roller, our anchor chain would be scraping against the aluminum strut that spans the bow—and it would get very abused. So losing it meant we needed to head back to Savusavu so we could get our spare anchor roller riveted onto the bow. After the 30 mile return trip, we entered the Savusavu harbor right at dusk, where Nina and Paw Paw gave us a rock star welcome. They screamed and woo-hoo'd us as we headed in to a mooring ball! We got to have dinner with them both nights we were back in town, which was really nice. Dan was also able to rivet on our spare anchor roller the day after we got in, so we were good to go again.
Back in Savusavu at Dusk
Dan Riveting!
Next stop: Yadua. We ended up staying one night in the southwestern part of Vanua Levu (with Kate and Steve from Blue Summit) in Bua Bay, which did NOT look or feel like Fiji. The view on one side could have been North Carolina river waters, with low-lying scrub and dark, unclear water, while the view on the other was full of distant mountains. It was so peaceful and we saw no other signs of human life while we were there for the night. The next day, we continued on to Yadua.
We knew we were going to have to do Sevusevu with the village chief, which meant stocking up on some kava root. In each village, you are supposed to dinghy in and ask to speak with the chief. Local villagers take you to the chief and you present your gift of kava. Sometimes, they produce kava drink right then and there and ask you to share it. Other times, the offering is accepted without the drinking ceremony and you are then welcomed into the village while you are anchored there.
Bua Bay
Yadua
Interestingly, out of respect for the village chief, what you wear to this ceremony is very important. Women must wear a long skirt (or a sarong/lava lava) and shoulders must be covered—no tank tops. Women are not supposed to wear t-shirts either. Men are either supposed to wear long pants or a lava lava (skirt-type wraps) and also cannot wear t-shirts. Well, we didn't realize how terribly devastating this would be for our poor, feral children. They had a rare case of clothing trauma. My 14-year old daughter does not own a skirt. Really. Why own one if you won't ever wear one? And as we found out, Ariana really has nothing other than t-shirts that fit her right now. Add to that the fact Ryan has not worn pants in nearly a year, so we had to hear a few complaints about how hot and uncomfortable pants are. He also has not had to wear a collared shirt in a long time, but he was a trooper and didn't complain too much about it. Ari ended up wearing the pareo the folks on Palmerston Island had made and given us, and wearing a t-shirt that's back emblem could be covered by her extra long hair. We worked it all out. I can just picture our kids trying to go to school next year in shorts, t-shirts and flip flops—even when it snows!
Back to the village of Yadua. What an amazing travel experience we had in this village!
Heading to Sevusevu
Women of Yadua Doing Laundry
Yadua Garden
Yadua Houses
Sevusevu in Wilamina's House
The four of us went to the village with Steve and Kate (from Blue Summit) to do Sevusevu. When we got to land, Dan said: "Toranga ni koro," which means, in essence, "take me to your leader." I bet you didn't know Dan spoke Fijian, did you? Yadua's village chief was actually on a different island at the time, so an adult (who understood Dan's incredible command of the Fijian language) instructed the local kids to bring us through the "old" village to the "new" village where we would meet with the man second-in-charge. The old village had the church and a handful of houses, some more rustic than others, but the old village was the area that was demolished in Cyclone Evan three years ago. This island, luckily, actually fared quite well with Cyclone Winston last year. The new village was another bunch of houses that you came upon after a five to ten minute walk through the trees a little further away from the water. The Fijian government funded these new houses after Cyclone Evan.
The villagers live so differently from us, it is hard to imagine, but I will try to describe the scene. The houses are all only one room, and many have no furniture at all. Some have one single bed, and others have one single bed and one chair. The floors are decorated with mats that are hand-woven from thin strips of bark that were dried by the sun. Surprisingly smooth and soft on your feet, these mats hold up well and the largest ones take about a week to weave. It is customary for everyone to take off their shoes prior to entering a house in Fiji (and Tonga, for that matter). Many of the houses have a few colorful pareos (they call them something else) hanging in the room either as decoration or as room dividers. In one corner of the room, there is a stack of clothes and pillows, as well as some additional bark mats. In another corner, there is a wall shelf that contains plates, bowls, and a few pieces of silverware. In yet another, a suitcase, a laundry basket and a few towels sit stacked on top of one another. Flies are prolific, even when no food is present.
The kitchens are in separate grass huts that have wood fire pits placed strategically in the prevailing downwind direction so the cooks are not smoked out of their own kitchen. The floors of the cooking hut are also covered in woven mats, and buckets of cooking supplies line the insides of the hut. Fresh peeled coconut fills a bowl, ready to be added to the large pot of boiling seafood. Outside, a few cooking supplies are kept on a wooden platform high enough off the ground so that animals cannot get to them, but a few large aluminum and stainless pots being used that day are set on the ground, and occasionally, the dogs and chickens go to the pans looking for a good drink. Dogs in Yadua are commonplace, quite thin, and generally a bit neglected. Chickens and their chicks run free without the harassment of the dogs; the dogs know they will get hit if they bother the chickens. The children are all barefoot in mismatched clothes, but they are well fed and seem quite happy. The bathroom facilities are corrugated metal outhouses and are, intelligently, far enough away from the houses so there is no smell. The children have few actual toys, but in one house, a child was playing with Lego look-alikes. Some of the houses have electric lights, and solar panels can be seen scattered throughout the village. Hopefully, that captures the physical description of the village and its houses.
Wilamina Cooking in Her Kitchen
Awaiting Lunch
The Bathroom in the Center
Kate Holding the Smallest Puppy!
What cannot be described nearly as well is how incredibly warm and friendly the people of the village are to us foreigners. I thought the people of American Samoa were friendly, but Fijians are some of the warmest people I have ever had the pleasure of meeting and being around. When we walked through the village, everyone screamed "bula!" (hello), and all of the kids would gather around to see the strangers who had sailed to their town. The children walked with us everywhere we went, the little girls seeking to hold our hand. When we sat, the kids would touch our skin and hair, and at one point, I looked back and saw two young boys each playing with a long strand of Ariana's blond hair in their hands!
The adults were just as friendly. We were welcomed into the home of the man second-in-charge, and his niece spoke English quite well. (We met no kids who yet knew English, and even among the adults, very few spoke much English.) I do not know how to spell the niece's name, but it was similar to: "Wilamina." We sat and talked about their life on the island. Wilamina was aware of things like automatic gas stovetops, but she also recognized village life meant a much more simplified way of living. She had actually left the island to receive education above and beyond the eight grade levels they have on the island.
We brought with us some candy and Zhu Zhu pets that belonged to Ari and Ryan from years ago to give to the children, and the kids really got a kick out of them, especially when they "talked" to them and scooted across the floor. At one point in our conversations, Wilamina invited us to come back for lunch the next day (Sunday). Church was to start at 10 a.m. and lunch would be at noon.
Kids Playing With the Zhu Zhu Pets We Brought For Them
Ari in a Sarong for Sevusevu
We all accepted the invitation and set out on our way back to our boats. We rounded out the day with cocktails and a game of Uno on Blue Summit before we departed and ate Chicken and Vegetable Korma with Naan bread back on our own boat.
The next morning, we decided to do something we have never done on this entire trip—we went to Church! We felt it was the right thing to do out of respect for the villagers and we also believed it would be a good cultural learning experience for all of us. Once again, we donned long skirts or pants and headed to the island.   After a long dinghy ride through the shallows of the reef, we arrived and immediately had the assistance of a group of children to pull our dinghy up high enough to survive high tide later in the day. I had baked a sour cream, brown sugar coffee cake to bring to lunch, and I brought that along with us to church. Church, which is Methodist in this village, started late. Kids and adults meandered in until about half past ten, and finally the service started. It was in Fijian, except for the brief welcoming one of the parishioners gave to us in English. After 45 minutes, church service was over, and we shook hands with the key church members outside. The minister invited us to his house for a rest, where his wife mixed together a packet of Tang and water and we talked for a little over a half hour. His house was similar to the rest, except that he had a large photo of Jesus, no chair, and multiple, colorful pareos making his house a bit more festive.
We then had to head off for lunch, so we excused ourselves and headed over to Wilamina's house.   Wilamina was still cooking, so we were able to see how they cook by the fire. They had a boiling pot of these large mussel-type things, and to tenderize them, they essentially beat the heck out of them outside the kitchen hut. If one falls out onto the dirty and grass ground, they just throw it back in. I have to say—these did NOT look appetizing at all, especially knowing it was all getting thrown back into the pot, dirt and all!
A few minutes later, we all settled in on the floor. The spread was large and there were many extended family members present. We each had a bowl of smoked fish and bok choy in a broth, and there were sides of Cassava and Breadfruit that they grew right there on the island. Our Fijian friends eat with no silverware, but we were given spoons; they know we typically eat with silverware. It was a HUGE bowl of food, so Ari and I and Dan and Ryan shared one bowl. Dan and Ryan's fish was much smaller, a bit more bony, and had the face still in there. Ari and I had a great piece of thick, wonderfully tender white fish that had a lovely flavor. We had small pieces of breadfruit and cassava as well. I was so pleased to see they did their best to keep all of the food covered when folks weren't taking pieces of it. There were SO MANY flies! I can't tell you how many flies there were. We were constantly shoeing them away while we ate. When the gigantic, lip-like mussels were set on the table, I have to say, I didn't partake in them. Blue Summit had one each, and they said they were rubbery. I guess I didn't feel that adventurous…
Lunch at Wilamina's House
Wilamina's Family
The Floor Feast
The Lunch "Table"
Kids Waiting For Lunch
Tenderizing the Big Lip-Like Mussels (and Flicking the One that Fell to the Ground Back into the Pot)
The Dog with the Very Injured Paw
My coffee cake and Kate's chocolate chip cookies and popcorn were shared amongst the villagers, and we talked about how they celebrate Christmas and New Year's. In a nutshell, they prepare extra-special foods for Christmas, some family members who live off-island come back, they give gifts, and there is a lot of dancing and Kava drinking on New Year's Eve. Other than the surroundings, it sure sounds a lot like the U.S.! A little while after lunch, we said our goodbyes and headed back to our boats. The villagers of Yadua all had very little in the way of material possessions, but they sure were welcoming and wanting to share what little they had. It was a wonderful experience to share food and stories with people from a culture so different from our own.
Giving Some of Ariana's Old Clothes to the Girls
Views from the Top of the Island
Views of Our Boat From the Top of the Island
The winds changed direction, so we chose to head out with Blue Summit to another bay on the same island. There we had Blue Summit over for dinner one night, played some more Uno, and did some great snorkeling. It was some of the best snorkeling we have had since French Polynesia. Wonderful! What isn't good is that the housing on our GoPro is broken (and our underwater camera was stolen in Tonga), so we could take no underwater photos here. I saw, for the first time, my new favorite fish, which is called an Oriental Sweetlips. It is beautiful! It is black and white horizontally-striped with bright yellow on its back and highlights of yellow on its fins, with a yellow with black polka dotted tail. We have seen so many beautiful fish here, from Clown, Picasso and Titan Triggerfish, to a Humphead Bannerfish, tons of Anemonefish and Clown Fish, multiple types of Parrotfish, Regal Angelfish and Saddleback Butterflyfish, Moorish Idols, Blue Sea Stars, etc. There are so many amazing varieties of fish in these Fijian waters!
My favorite fish (an online photo):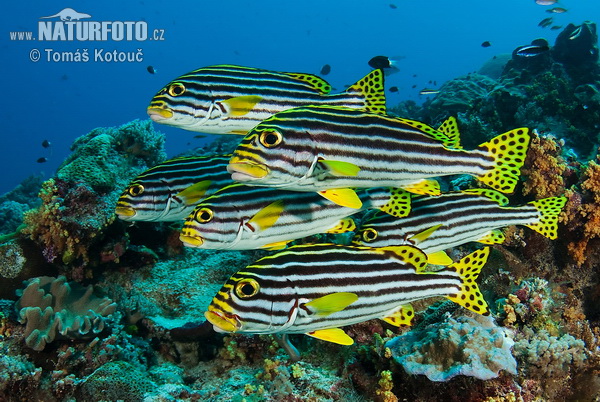 Our time on Yadua was amazing and I am so glad we came here. Next, we were off to Champagne Bay, on the island of Yasawa!
Ariana Getting Caught in a Photo